Tension Sensor
Description:
Model: TS
Features:
1. Capacities (kg): 0.5 to 3
2. Resistance strain measurement methods
3. Compact structure, save the space
4. Three-roller measuring structure can realize the real-time monitoring of dynamic tension
5. It can arrange in parallel, forming a tension detection array
Applications:
Be suitable for on-line tension measurement, such as rope, fiber, electric wires, metal wire and other similar products.
Specifications:
Rated Load

kg

0.5,1,2,3

Rated Output

mV/V

1

Zero Balance

%R.O.

±1

Comprehensive Error

%R.O.

±0.3

Repeatability

%R.O.

±0.1

Non-linearity

%R.O.

±0.3

Compensated Temp. Range

‌℃

-10~+40

Operating Temp. Range

℃

-20~+70

Temp. effect/10℃ on output

%R.O./10 ℃

±0.02

Temp. effect/10℃ on zero

%R.O./10 ℃

±0.02

Recommended Excitation Voltage

VDC

5-12

Maximum Excitation Voltage

VDC

15

Input impedance

Ω

350±5

Output impedance

Ω

350±3

Insulation resistance

MΩ

≥5000(50VDC)

Safe Overload

%R.C.

150

Ultimate Overload

%R.C.

300

Material




Aluminum、Stainless Steel Shell

The length of the cable

m

3m

Wiring code

Ex:

Red:+ Black:–

Sig:

Green:+ White:–
Dimensions(in mm):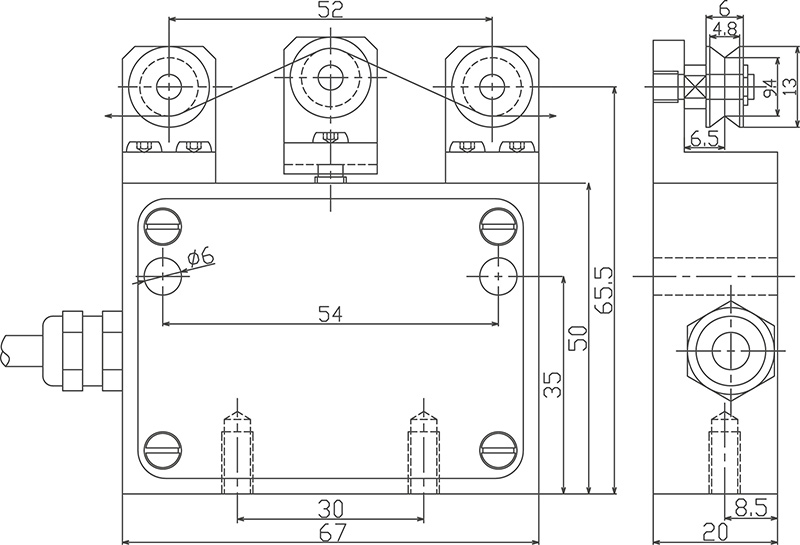 Wiring Code: