Low Profile Disk Load Cell
LCD800 Low Profile Disk Load Cell
Description:
Model: LCD800
Features:
1. Capacities (t): 0.1 to 50
2. Compact structure, easy to install
3. Compression load cell
4. Low profile, spherical designing
5. High comprehensive precision, high stability
6. High quality alloy steel with nickel plating
7. Alloy steel or Stainless steel material
8. Module installing
Applications:
Be suitable for a wide range of applications including testing or weighing systems.
Specifications:
Rated Load

kg

100,200,500

t

1, 2, 5,10,20,30,50

Rated Output

mV/V

2.0±0.2

Zero Balance

%R.O.

±1

Comprehensive Error

%R.O.

±0.2

Creep/30 minutes

%R.O.

±0.05

Non-linearity

%R.O.

±0.2

Hysteresis

%R.O.

±0.2

Repeatability

%R.O.

±0.05

Compensated Temp. Range

‌℃

-10~+40

Operating Temp. Range

℃

-20~+70

Temp. effect/10℃ on output

%R.O./10 ℃

±0.02

Temp. effect/10℃ on zero

%R.O./10 ℃

±0.02

Recommended Excitation Voltage

VDC

5-12

Maximum Excitation Voltage

VDC

15

Input impedance

Ω

770±10

Output impedance

Ω

700±5

Insulation resistance

MΩ

≥5000(50VDC)

Safe Overload

%R.C.

150

Ultimate Overload

%R.C.

300

Material




Alloy Steel/Stainless Steel

Degree of protection




IP67/IP68

The length of the cable

m

100kg-5t: 5m 10t-30t:10m 50t:15m

Wiring code

Ex:

Red:+ Black:–

Sig:

Green:+ White:–
Dimensions(in mm):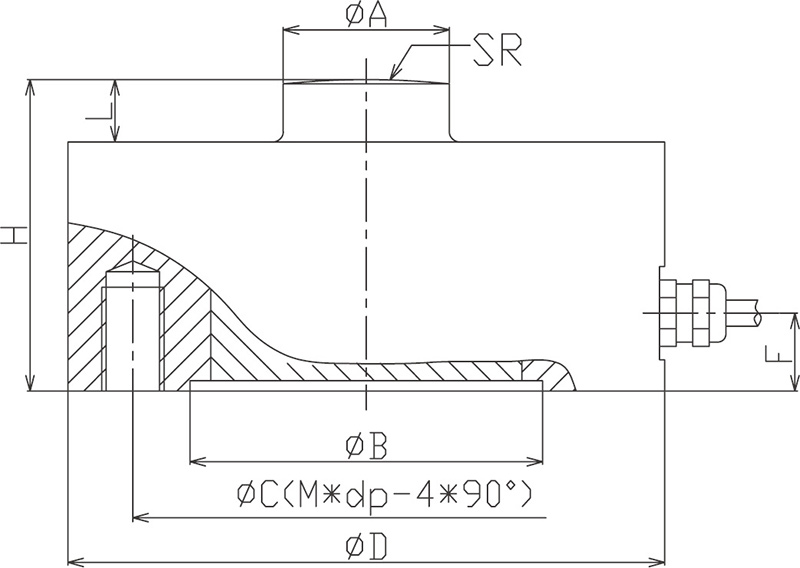 Wiring Code:

Sorted by industry
Contact Us
Contact: China tension meter manufacturer BETTEN Technology
Phone: 13911001672
Tel: +86-24-24754482
E-mail: info@betten-tech.com
Add: Shenyang Shenbei International Science and Technology Cooperation Industrial Park